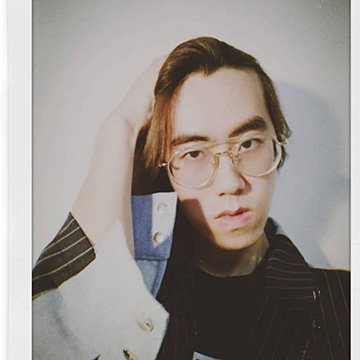 周姜杉,艺术家,屏幕间SCREENROOM创办人,PPPP 新媒体艺术空间联合创办人。周姜杉的作品探讨实时系统中个人与社会集体的关系。他们的创作涉及计算机科学、视觉艺术和叙事, 使用现实世界所获取的数据创造多感官的反馈系统,邀请参与者对特定议题的讨论。
周姜杉2018年担任NOVA交互新媒体艺术大奖复审评委;2014年周姜杉联合创作了中国当代艺术互动数据可视化作品 , WOW CCAA, 展出于上海当代艺术博物馆(PSA)《漫步中国当代艺术大奖 15 年》;2013 年周姜杉联合策划了中国首个数据艺术展览,《信息新浪潮——英国信息可视化艺术设计展》, 展出于中央美术学院美术馆。周姜杉的作品在国际范围展出,其中包括英国维多利亚与艾尔伯特 (V&A) 博物馆,荷兰 V2 不稳定媒体机构,法国 LE CUBE,柏林 Momentum,香港艺术中心、北京 CAFA 美术馆。
周 姜杉拥有英国中央圣马丁艺术与设计学院及伦敦大学金匠学院的硕士学位。
展览
保时捷青年艺术家提名展,北京展览中心,北京,2019.5
深圳(坪山)国际雕塑展,坪山雕塑公园,深圳,2019.5
新艺术史 2000-2018,银川美术馆,银川,2019.3
未来演化 —— 我们的共享星球,现代汽车文化中心,北京,2018.11
数据·图像·异轨,GESSOISLAND艺术空间,沈阳,2018.10
永生市——常青藤计划2018,天津滨海艺术中心,2018.9
未来折叠,金鸡湖美术馆,苏州,2018.9
女神,杭州工艺美术馆,杭州,2018.9
TED三里屯 RE_ME,三里屯橙色大厅,北京,2018.4
未来的异想,南国设计中心,武汉,北京,2018.4
渲染的风景,现代汽车文化中心,2017.12
深圳城市建筑双年展,33 画廊,深圳,2017.12
.zip 未来的狂想,今日美术馆,北京,2017.7o
监控,CIGE艺术家项目,北京,2016.8
看的见风景的房间,妙有艺术,北京,2016.11
文化 R>evolution,香港艺术中心, 香港 2016.5
Prix Cube 数位艺术青年艺术家提名展 2016,Issy-les-Moulineaux,法国,2016.4
索尼探索者计划,上海民生美术馆,上海,2015.5
虚空,今格空间,北京,2015.4
想象不可想象之事,Momentum,柏林,2015.2
IFVA独立短片及影像媒体节 2015,香港艺术中心,香港,2015.2
未来展,CAFA美术馆,北京,2015.1
新媒体艺术年代学,四川美术学院,重庆,2014.11
夏令营,新时线媒体艺术中心,2014.11
WWWK 艺术节2014,V2 不稳定媒体艺术中心,鹿特丹,2014.9
大声展2014,三里屯橙色大厅,北京,2014.9
中国当代艺术大奖15年,上海当代艺术博物馆,上海,2014.4
此时此地,圣詹姆士教堂,伦敦,2013.9
创意运算博览会,金匠学院,伦敦大学,2013.6
国际新媒体艺术展,OCT-LOFT 艺术展台,深圳,2013.5
运算艺术,Waterman艺术中心,伦敦,2013.1
Crypta 无声的独白,The Crypt,伦敦, 2012.8
当下,中国年轻艺术家展,SW1 画廊,伦敦,2012.8
数字未来,V&A博物馆,伦敦, 2012.10
实验新思,Lethaby画廊,2011.10
演讲&工作坊
艺术家肖像,算法兴起,温州,2018.11
中韩当代艺术论坛,首尔,2018.11
ISEA 国际电子艺术研讨会 2016, 香港 2016.5
艺术家日志计划,西湖苹果店,杭州,2015.9
开放硬件,同济大学,上海,2015.3
实践未知领域,四川美术学院,重庆,2014.10
融纳之媒,设计上海,2014.9
与新媒体说再见,中国美术学院,2014.8
数字人文艺术研究研讨会,格林威治大学,2014.8
奖项和提名
法国 Prix Cube 数位艺术青年艺术家提名,2016
香港 IFVA 独立短片及影像媒体节特别提名奖,2015
展览策划
Drive Range, PPPP, 北京, 2018
我在这里,摩登天空,北京,2018
面朝大海,多余美术馆,深圳, 2017
粉末时间,北京,上海,柏林,2017
黄河今流,云图画廊,纽约 | 单向空间,北京,2016.10
Stones Throw 20周年北京, 东区故事 D•Live,北京,2016.5
城市代码I,II,III,北京奥迪中心,2013,2014,2015
信息新浪潮,中央美术学院美术馆,2013.9
出版&发表
数字人文和艺术,格林威治大学,2014
信息可视化的艺术,机械工业出版社,2014
艺术驻地
夏令营,V2不稳定媒体艺术中心,鹿特丹,2014.9
Cedar Zhou is an artist, founder of SCREENROOM, co-founder of PPPP space. The work of Cedar discuss the relationship between individual and group in a real-time social system context, making tangible the invisible forces between individuals under different sociological and psychological influences.
In 2018 Cedar was jury of NOVA Interactive art award. In 2014 hey co-created an archive data visualisation show about Chinese contemporary art, the CCAA WOW at Power Station of Art, Shanghai. In 2013 Iris & Cedar co-curated Information in Style: information visualisation in the UK, art and design exhibition at the CAFA Art Museum. Their works have exhibited internationally at venues including Victoria and Albert Museum in London, UK, Waterman Art Centre in London, UK, OCT-LOFT Art Terminal, Shenzhen, China, and Audi City Beijing, China.
Cedar has a MA degree from the Central Saint Martin Collage of Art and design, University of Arts London and a MFA from the Goldsmiths Collage, University of London.
EXHIBITION AND PRESENTATIONS
Shenzhen (Pingshan)International Sculpture Exhibition, Shenzhen, May, 2019, Exhibition on…
NEW ART HISTORY 2000-2018,Yinchuan Art Museum,Yinchuan,Mar, 2019, Exhibition on…
Future Humanity – Our Shared Planet, Hyundai Moto Studio, Beijing, November, 2018
DATA, IMAGE, DETOURNEMENT,Gessoisland/Artspace, Shenyang, October, 2018
IVY ART 2018, Tianjin Binhai Art Museum, September, 2018
Future of Today, Suzhou Jinji Lake Art Museum, September, 2018
Goddess, Hangzhou, Hangzhou Craft & Art Museum, September, 2018
Re-Me, TED Sanlitun, Beijing, April, 2018
Future of Today, Wuhan Design Centre, Wuhan, April, 2018
Rendered Landscape, Hyundai Cultural Center, 2017
Bi-City Biennale of Urbanism Architecture, 33 Gallery, Shenzhen, 2017
Future museum, Today Art Museum, Beijing, July, 2017
Surveillance, CIGE 2016, Beijing, Aug, 2016
a room with view, MOUart, Beijing, Nov, 2016
ISEA 2016, Cultural R>evolution,HongKong, May, 2016
Prix Cube 2016, Issy-les-Moulineaux, France, April, 2016
Sony Explorer Program, Mingsheng Art Museum,  Beijing, May, 2015
Void, Ginkgo Space, Beijing, April, 2015
Thinking about the Unthinkable, Momentum, Berlin, February, 2015
IFVA award 2015, HongKong Art Centre, HongKong, February, 2015
Future Show, Cafa Art Museum, Beijing, January, 2015
New Media Art Chronology, Chongqing, November, 2014
Summer Session, Chronus Art Centre, Shanghai, September, 2014
Festival WWWk 2014, V2 Institute for the Unstable Media, Rotterdam, September, 2014
Get it Louder 2014, Sanlitun Village, Beijing, September, 2014
CAA15 Years, Power Station of Art, Shanghai, April, 2014
NowHere, St James Church , London, September, 2013
Creative Computing Expo, Goldsmiths, University of London, London, June, 2013
International New Media Art Exhibition, OCT-LOFT Art Terminal, Shenzhen, May, 2013
Computational Studio Arts, Watermans Arts Centre, London, January, 2013
Crypta Silent Monologue, The Crypt, London, August, 2012
SHOWING, Chinese Young Artist, SW1 Gallery, London, August, 2012
Digital Futures, V&A Museum, London, October, 2012
Experiments in new thinking, Lethaby Gallery, October, 2011
TALK AND WORKSHOP
Artist Portrait, the Rise of the Algorithm, 2018, 11
East Bridge – China & Korea Contemporary Art,Seoul,2018.11
ISEA  2016, HongKong 2016.5
Artist Log,Hangzhou Apple Store, 2015.9
Arduino Day, Tongji University, Shanghai, March, 2015
Practices in Unknown Field, Sichuan Fine Art Institute, Chongqing, October, 2014
Design Shanghai, Shanghai Exhibition Center, September, 2014
Farewell New Media Art, China Academy of Art, Hangzhou, September, 2014
DRHA 2014, Greenwich University, London, August, 2014
Renmin University of China, Beijing, 2014
Sichuan Fine Art Institute, Chongqing, 2013
AWARD
Prix Cube young artist shortlist, 2016
IFVA media art special mention, 2015
CURATION
Drive Range, PPPP, Beijing, 2018
i AM HERE, Modern Skay Lab, Beijing, 2018
Facing the sea, EXTRATIME, Shenzhen, 2017
Time Divisual, Beijing, Shanghai, Berlin, 2017
Yellow River Runs forward, OWspace, Beijing, Oct, 2016
Audi City Code II, Audi City Beijing, Beijing, December, 2014
Audi City Code, Audi City Beijing, Beijing, December, 2013
Information in Style, CAFA Art Museum, Beijing, September, 2013
PUBLICATIONS
Digital Research in the Humanities and Arts, Greenwich University, 2014
The Art of Data Visualization in the UK, China Machine Press, 2014
ARTIST IN RESIDENCY
Summer Session, V2 Institute for the Unstable Media, Rotterdam, September, 2014